In silence you meet awareness.
With knowledge you'll want silence.
Selvaggia Domitilla Biondi  |  heartist

Domitilla Biondi is an Italian emerging artist & sound healer holistic therapist.
Born in Rome in 1973, she graduated in Milan as Graphic Designer in 1996, with some of the best Italian professors and showed at once her attitude to explore new projects, embracing the way of Interaction Design and founding Project Ekidna, a collective research project which got awards and publications. She worked as interactive designer freelance in Milan and London, and from 2004 to 2014 Domitilla founded her own multidisciplinary studio (Ekidna Design Bureau), focused on consulting directly to clients and blu-chip agencies, and also dedicated few years to teaching web design in the Academy where she graduated.
In 2011, after her father's death for cancer, Domitilla felt uncomfortable in her job and started to increase self-consciousness of well-being in order to heal many aspects of her life, and graduated in Sound Healing with harmonic frequencies. She then abandoned technology in order to get back to inner creativity as a path to Consciousness, and that's how her artistic path began: in 2013, she sporadically investigated the carving of paper (read full story in her blog), passing from large figurative pieces to smaller ones with abstract themes, and at the end of 2014 she finally felt that the technique started to flow.
She understood the cruciality of this creative expression and devoted herself to this work only in May 2016, when she became aware of being an artist, in the significance that ancient cultures gave to this word, which means being in the presence of the inner Self, in the unique moment, when putting aside all expectations, it makes possible to channel a flow of special energy that reflects the subconscious – that in Domitilla's case it means incredibly beautiful miniature bas-reliefs, making every sculpted piece a surprise even for herself.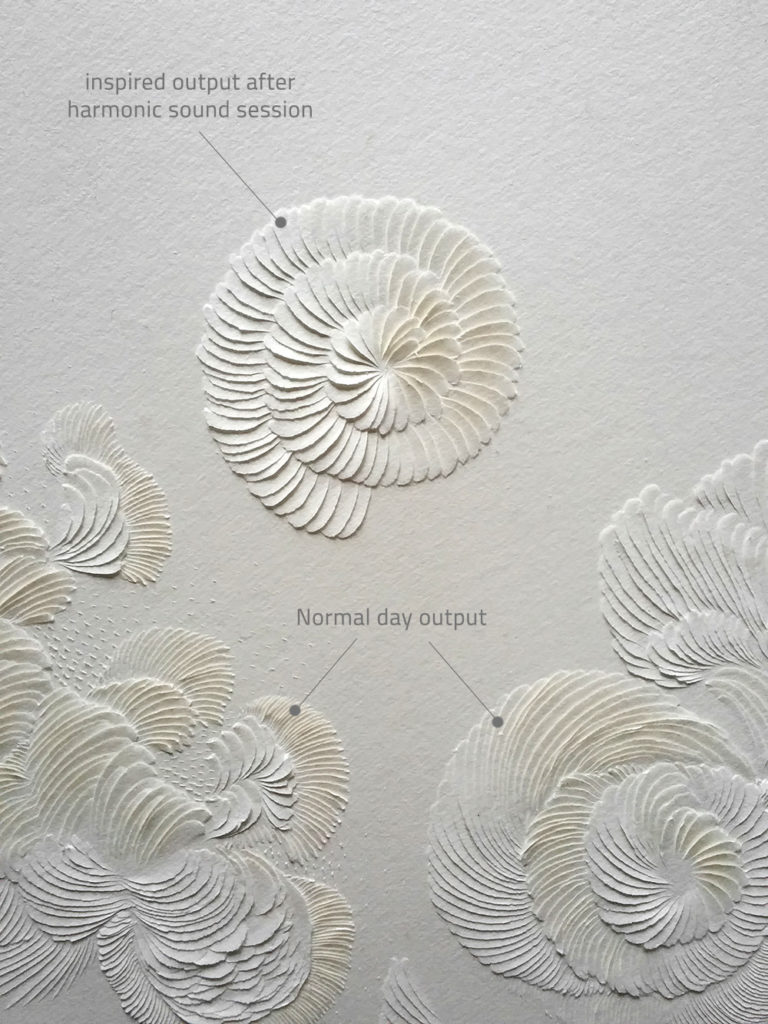 Being inspired art, created in real time, every piece is unique and unrepeatable, and she reckons that the secret of the Beauty that it expresses is that they hold harmonic paths, made visible by spiral shapes in the paper, and carving is only another manner to play harmonic frequencies.
Her parallel path as sound healer strongly influenced the output results, and art became, for her, a way to understand deeper the potencials of harmonic frequencies on human body. She constantly experiences on herself the effects of self healing practices (i.e. nutrition, fasting, meditation, pranic state, trance dance, etc.) and investigates how these influence artistic perceptions, through the ri-connection with the Inner Self.
You can go deeper into her multifaceted Essence via www.domitillabiondi.com
Artist of carving
Homo Faber event – section Magnæ Cartæ, by Michelangelo Foundation @ Fondazione Giorgio Cini, Venice, 10 Apr – 1 May 2022
online exhibition From Art to Interior – Domitilla Biondi @ Shangai Florence – Sino Italian Design Exchange Center, www.sidec.cn/en (from 5 Nov 2021)
Digital Exhibition 5VIE D'N'A (exhibiting The heARTbeat – Multiple Collective work of art), online, 10 – 31 Oct 2020
Art fair Florence Biennale (exhibiting The heARTbeat – Multiple Collective work of art), Firenze, 18 – 28 Oct 2019
Solo Exhibition Domitilla Biondi – Paper Poetry | with ESH Gallery @ Gallery Kitai, Tokyo, 13 Sept – 12 Oct 2019
Group exhibition Cabinet of Curiosities III  | London Craft Week  @ Jaggedart Gallery, London, 8-12 May 2019
Art fair Eurantica Brussels | with ESH Gallery @ Brussels Expo, Brussels, 28-31 March 2019
Art fair Collect 2019 | with ESH Gallery @ Saatchi Gallery, London, 28 Febr –  3 March 2019
Exhibition Oggetto Libro 2018 @ Libreria Braidense & Mediateca di S.Teresa, Milan, 07 Nov – 07 Dic 2018
Exhibition Harmonic Shapes – Artworks by Agustina Bottoni and Domitilla Biondi @ ESH Gallery, Milan, 09-30 Oct 2018
Selected to represent Italy as emerging ceramist to European Future Lights Competition – by Art and Crafts Councils of Ireland & Porzellanikon (DE) @ Kilkenny Castle, Ireland, 7 sept 2018
Art fair SoB Book Arts Day @ The Congregational Chapel Kentish Town, London, 17 Mar 2018
Art fair Collect 2018 | with ESH Gallery @ Saatchi Gallery, London, 22-25 Febr 2018
Milan Affordable Art Fair – with Carte Scoperty Art Gallery @ Superstudio Più, Milan, 26-28 Jan 2018
13° Day of Contemporary Art by AMACI (Italy) @ EscArt on Facebook, 14 Oct 2017
Art fair TRESOR17 Contemporary Carft | with ESH Gallery @ Messe, Basel, 20-24 Sept 2017
Affordable Art Fair | with Carte Scoperty Art Gallery @ Superstudio Più, Milan, 9-12 Feb 2017
Collect Open, independent section in Collect the international Fair for contemporary object – section  @ Saatchi Gallery, London, 2-6 Feb 2017
Exhibition CAM/Japan My Love @ Agatha Ruiz De la Prada showroom in Maroncelli Distric, Milan, 17 Nov – 10 Dec 2016
Exhibition Bellezza (etica) @ Chiostro dell'Umanitaria, Milano, March 2016
Awards
2019 – The heARTbeat project receives a silver Lorenzo il Magnifico Award (category Performing Art) at Florence Biennale 2019.
2009 – Project iPoint receives a bronze at the European Design Awards 2009 (category Digital/Information Site), followed by a nominee for the Design Award of the Federal Republic of Germany 2010.
Collaborations
Area Environments: artists' custom Wallpaper
The House of Oud : Sacred Groove parfume's inspiration
Background: as digital designer
Exhibition/Festival OneDotZero (@ ICA, London, 2002) in the section representing female designers
Exhibition New Visual Trends: Graphic Design in communication at the beginning of the Millennium (@ La Salara, Bologna – Milano, 1999-2000)
Exhibition Biennale of Young Artist of Europe and Mediterranean – category Cyber Art (Rome, 1999) as Project Ekidna
Monography
See my
book DOMITILLART
(2020) in pdf format.
---