This is the Day.
This is the Year.
I'm back and Happy.
I'm Open to be Radiant and I Cherish All of You that Will Join my Joy to Exhibit at galerist Riccardo Sorani's place, the ESH Gallery, in Milan.
In Occasion of  the Milan Fall Week of Design, me and Argentine designer Agustina Bottoni, will exhibit our latest series of artworks, both of us searching Harmony in visual form (Beauty) and putting it into our Shapes, which are both delicate, elegant and full of Light.
I hope you will Enjoy this subtle space of Harmony that we are creating, together with the gentle touch of art curator Benedetta Jann, and resonate with it into the fluidity of your Intimacy.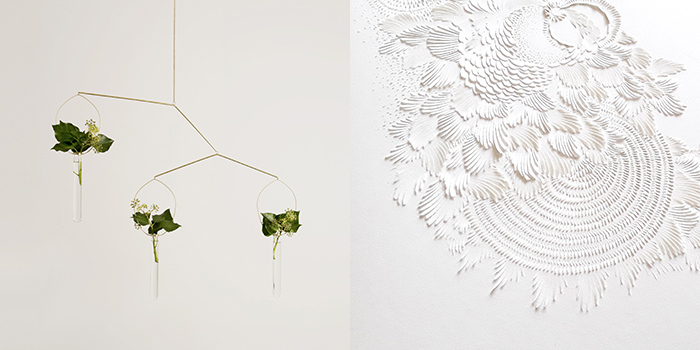 HARMONIC SHAPES. Artworks by Agustina Bottoni and Domitilla Biondi
October 09th – 30th 2018   |   Esh Gallery, Milano
Always h 6-9 pm, I will be present at the Opening, then again on Saturday 13 for the AMACI Day, and finally for the Finissage, on Monday the 29th, which will be also a charity event to sustain the no-profit Farfalle di Luce Onlus to whom part of my sold goes into donation: join us for a glass of wine that will help some kid around the world ♥
My artworks that will be on exhibit and sale are all the latest paper artworks of large size: two of 100×75 cm like Underwater #1 and Shine as Gold! (detail in the image) the My Stupid Silly Week series of 45 x 76 cm and some of the Magnifico series.
This is the official press release (Italian Version) Comunicato Stampa.
---
Information
Esh Gallery: www.eshgallery.com | follow @eshgallery on Instagram and @eshgallery on Facebook.
Opening times
Opening Thursday 8th October and Monday 29th
 : h 
18.00 – 22.00
Rest of the days : on appointment | Mon-Fri h 11.00-19.00
t: + 39 0256568164 , enquiries@eshgallery.com


Location
Esh Gallery, Via Forcella 7 (Zona Tortona), Milan (Italy) | see on Google Maps
---
Vernissage day
Press Review
NB: the exhibition has been organized last minute, so communication on paper magazines it hasn't been possible.