Italian version
My Space is what I recall being pART of a Wholeness.
My Space is Everywhere there is Opportunity of Creation.
This is Why I Desire to move forward and push my carving activity to another level: that of Collectivity and partecipatory co-Creation.
What I desire to do, it to make people aware of the importance of feeling themselves as partecipative and consciously part of this collective work of Art which Life is.
To do so, I Desire to give birth to a Multiple Collective Work of Art which I can Imagine – so far – as a giant globe of particles, all connected together, bringing the energy of each partecipant-performer who choosed to consciously take part of this.
I title this wide project The heARTbeat, and develop it during the year 2019, through several stages and opportunities to exhibit the outputs.
Being (p)Art of a co-Creation.
First of all, I'd create an event to invite people to co-create with me part of something that will be assembled later on and, then, exhibited. This event is called Opening of the Art ritual and consists in letting people transform the carved porcelain – which I've previously created –  into something "new", from the point of view of the memory (in terms of frequencies) that the matter would emanate, after.
This ritual has the objective to collect porcelain fragments and video material of 21 people (which I'd call "performers", formally my co-creators).
After the ritual, I would use the fragments of porcelain to create a brand new object of Art.
This artwork will be composed of fragmented realities of porcelain artworks, beautifully assembled into a brand new piece of Art, which vibrates of the heartbeat of every single person that has decided to (re)Open his/her heART to this new prospective.
A video-collage of all the emotions of the performers, at the moment of the clou of the initiatory moment is, also, part of the artwork performance's result.
These two (the video and the porcelain object/installation), will be exhibited during an international art fair. In this occasion, it will also be opened a new call for other 21 new performers for the next ritual, to join the list of co-creators, and produce new materials necessary to the creation of the artwork n.2, plus to implement the video, which will be exhibited at the following fair. And so on: Ritual+Exhibited Object of Art, for 3 times during the year.
The result is something multi-cultural, multi-frequencies, multi-emotional Collective Art Process called HEARTBEAT, which stands for "One Love, Many beats, One Life: don't waste it, please".
This is the Plan: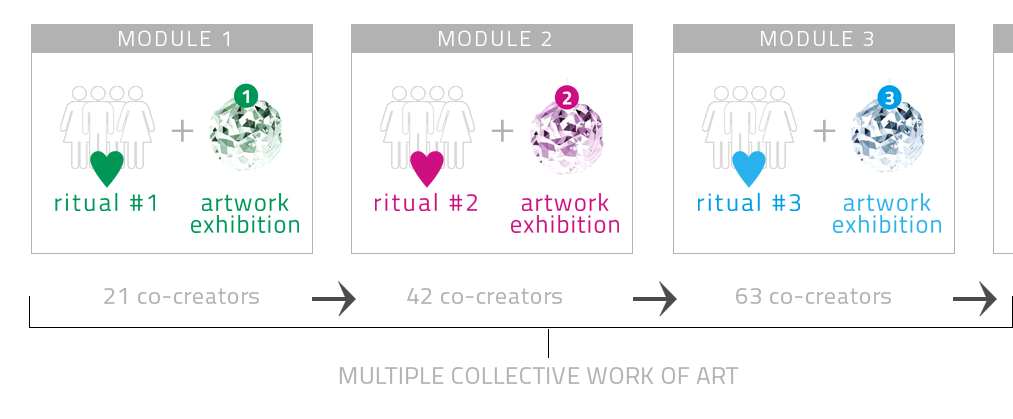 Calendar
Module #1 – Ritual on 14-15-16th December 2018 : Milan @Spazio Theta |  Exhibition: 18-28 October 2019, Florence Biennale (Italy)
Module #2 – Ritual 1-2-3 November 2019 : Florence @ Florence Dream Lab  |  Exhibition to be defined
Module #3 – Ritual to be defined  |  Exhibition to be defined
Etc.
Here there is the brief presentation on slides, with timeline.
If you want to sponsor this project, please contact me, thanks ♡.
---
Ritual #2 OPENING OF THE ART call for 21 performers is open!
More info to the page of the event. If you feel to join my performing art project, please fill this subscription form.

---
Opening of the Art ritual

Porcelain is a fragile material that everybody knows and trust for its preciousness.
Porcelain is the matter that we are going to link to the perception of how fragile is the separation between You and Your Heart, even if you cannot perceive it.
When you are able to – somehow – perceive this fragility, that you don't want to face, inside of you, then the mechanism starts working differently. When the trigger is pushed, emotions spring out and reveal what was lying under the fear of feeling Your own fragility and reveals the work of Art that You like, every single person, represent with by being unique as you are, perfectly placed in the complexity of a bigger scenario, which is (p)Art of Being Human.
Feedbacks from the performers
How would you describe your experience about the Ritual?
"Domitilla's gentleness and the Beauty of her artworks are a powerful instrument of transmutation of pain and inner growth. They recalled my childish amazement inside of me and a deep joy in being part of a shared project. The care and following up by Sara Francesca was a precious gift."
"Experience of balancing and full awareness of the Self and of the Heart of inner self."
"Warmth, peace, emotion."
"Peace, welcome, positivity."
"Body and soul have merged, sprung in a beating of wings, a flight out of time, outside of every place. I wished it could never ends and coming back it has not been easy. Beautiful experience, thank you for this wonderful gift.
"Amazement, openness, sense of identification."
"The immediate and unmistakable connection with the power of the other. Domitilla. Then a cascade of fresh and pure renewal energy. A new and irrepressible vitality. The clear feeling of being in the presence of my best self."
"Joy, awakening, invincibility."
"Transformative, liberating, astonishing."
"Joy, liberation, sensuality, rising energy."
---
The work in progress
Few images of the heARTbeat sculpture #1 :