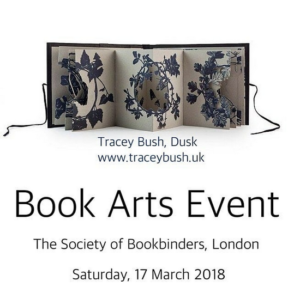 The Sob's Book Art Day is an arts fair presenting a variety of emerging and established book artists:
The main aim of the day is to increase the knowledge of Book Arts amongst members and to encourage dialogues, and collaborative networking between Book Artists and Bookbinders.
One of the surpricing path which I've been adviced to pursue at Collect Open 2017, was to give a go to Book Art. And the perfect coincidence came by when I met a special person (and true Poet), Alberto Casiraghy, owner of the prestigious independent publisher Edizioni PulcinoElefante, with whom I felt honoured to share an artwork. It took an whole year of gestation and now that I'm ready with about half of the series of the uniques 18 pieces, it will be great to show it for the first time to this new field of handcraft lovers.
I've been so happy when collector Sónia Serrão asked me to join the Book Art Day organized by her for the Society of Bookbinders, in London, SATURDAY the 17th of March 2018.
I've been invited to show my carving technique in person, also, and I will for the first time.
I'll exhibit and sell both my first book art titled Leggerezza, and some of the signed limited edition of the luxury greeting cards I WISH YOU series.
The special guest is the illustrated talk by Book Artist Tracey Bush, winner of the J Hewit and Sons Award for Excellence in Design in the 2017 International Bookbinding Competition, of The Society of Bookbinders.
And finally, I look forward to see the mini exhibition of Sónia Serrão's personal collection of artists' books collected over the last 20 years!
Useful links
Information
Opening times
SATURDAY 17 March 2018
 : 
h 10:30 – 4pm

Location
Congregational Chapel, Kelly Street, Kentish Town, NW1 8PH| see on Google Maps